Return Authorization
FREE SHIPPING ON ALL PLASMA CUTTERS AND WELDERS
ON SELECTED MODELS
Return Authorization for Warranty and Return Merchandise Authorization Under the 30 Day Satisfaction Policy.
Have a warranty issue or need to return your unit for repair? We want to help you resolve this issue as soon as possible To facilitate and alleve the stress of the process, please we have provided a simple 5 step process for you to follow.  This will help us to expedite your repair in the most seamless manner possible.  If you need assistance or have any questions about shipping, give us a call.  877 755 9353 ext 202.
If you do not have the full and most up to date U.S. manual for your welder, download the manual for your welder from the manual tab above.  Many times issues start with failure to read or understand directions.

If it is not something all  877-755-9353  ext 207 for a preleminary diagnoses. We can diagnose and even correct many problems with a simple phone call.  Once a prelimenary diagnosis has been made, you will be issued a Return Authorization number (RA number) for your repair. 
Download and print the Warranty Return Form from above.  You must obtain a Return Authorization number before returning the welder. Write the RA numberber down on the form and fill out the contact information, failure date etc.   Please fill out the form completely to help our technicians understand the nature and operating circumstances of the failure.  This will help us to more rapidly diagnose and repair your welder.  Use extra paper if you need to include more information. Also, write the RA number on top of the box.  Any unit returned without a RA number and warranty return form may be refused or service delayed.  Without a RA number, the unit may be mistaken for an out-of-warranty repair, and repaired at your expense.  We do not retroactively issue RA numbers.
Do not leave out information or signatures!  To protect your welder and enable us to repair your welder promptly and efficiently,  you must sign the form in two places.  1)  Sign the bottom left to consent to perform repair work.  2)  Sign the top right in the red inked area to acknowledge you have read and agree to the properly pack your welder for shipping.   NOTE:  Leaving either signature off the form will delay work until the proper signature has been received.  

Follow proper packing and shipping directions below. (Do's and Don'ts of Shipping)  Proper packing is your responsibility!  We cannot assume liability for damage caused by poor packing on the customer's part.  Shippers will not honor insurance claims if the unit is not properly packed.
If you need to return the unit under the terms of the 30 day satisfaction policy (from date of shipping) for refund, please contact sales at 877-755-9353 ext 202 before returning the unit.  It must be accompanied by the 30 day Return Merchandise Authorization form. Items returned without the original box and packaging, completed form and a valid return merchandise authorization number will be refused. The Return Authorization number  must be printed on top of box with indelible marker or pen. Customers must provide return shipping and full insurance. Please see the details of the return policy listed under the warranty and terms of sale link above the navigation bar. Subject to 15% restocking fee. Outbound shipping is non refundable. Please include a copy of the original receipt.  Please use the 30 day return form only when authorized by Everlast. 
STOP!  Please read and observe these instructions and examples to properly pack your unit for return. Your unit could be destroyed!
While we welcome your return as part of the warranty agreement with us, please understand that Everlast assumes no responsibility for shipping damage due to improperly packaging.  Any shipping damage is ultimately your responsibility.  Shippers will not honor insurance claims if the product is improperly packed.  We have no control over this.  We have instituted new rules regarding packaging, due to damage occuring during shipping as a result of poorly or carelessly packaged items.   Your unit is a valuable tool and should be appropriately packed. You assume all liability for shipping damage due to the issues presented below.  Everlast, at it's discretion, may choose to repack the unit at your expense if it deems the packaging has not arrived in reshippable/reuseable condition.  So, please pack carefully, or use a professional packager with the following do's, don'ts, and examples in mind!
Don'ts of shipping:
Don't use single wall boxes bought in warehouse stores for moving, storage etc. They are are not appropriate and will result in damage. 

Don't use Liquor boxes, and other resused boxes.  These are not heavy enough and are not appropriate.

Don't use Packing Peanuts or similar material are not appropriate for protection.  It will allow the machine to move around in shipping, and will invariably find its way into the welder itself, including solenoids and electronics, causing more issues.

Don't use Bubble wrap or air-filled plastic shipping pillows. These break down during shipping from drops and impacts and does not protect hard edges and corners adequately. 

Don't use Newspaper, Shredded paper, or other refuse products for packing.

Don't use tape other than quality shipping/packing tape.  

Don't allow power plug to float and bang around in packaging.  Secure it, tape it up and in place.
Do's of shipping:
Do use double wall, heavy duty boxes.

Do use, when available, foam lined, high impact shipping boxes such as "PelicanTM" or similar type of protective boxes that custom fit and surround the product with high density foam. (Also a perfect solution for proper storage!)

Do Re-use the original box, and packaging contents IF it is under 3 months old and in good condition, with no separation, breakage, excessive corner rounding or ungluing.

Do use a professional packager if you are unsure about packing, or have limited packing ability.

Do use plenty of packing tape to close, secure and reinforce corners, flaps and bottoms.

Do label box on the top side of the unit. Clearly mark which side is up.

Do double box the unit when possible (one box fitting tightly inside the other).

Use high density foam to completely surround the unit.  Original type foam or cut styrofoam is appropriate.  If using styrofoam, tape up gas inlets or outlets to prevent particles from entering the connections.

Use "self-forming" expanding foam packs available from shipping and office supply companies, that are designe to form around the product and hold it in place when activated.

Do make sure that the unit is firmly enveloped on all corners , front, back, sides, top and bottom and that there is no air gap or space between the unit and the box wall that will allow the unit to shift in the box during shipping.  A secure unit is going to survive better than one that is allowed room to move around.  

Make sure that the unit has the Warranty Return form included.  Fill out and sign the Form completely.

Tape up plug and make sure it is protected. Or press it firmly into the packing material and tape it in so that it does not come loose and whip around.

Use dense foam to fully surround the product when possible, or use some other forgiving, but sturdy packing mateial such as felt shipping blankets.

Take a picture of the unit being packed and the packaging condition upon being packed.
Good and Bad Examples of Packaging That We Receive on a Daily Basis:
Well Done!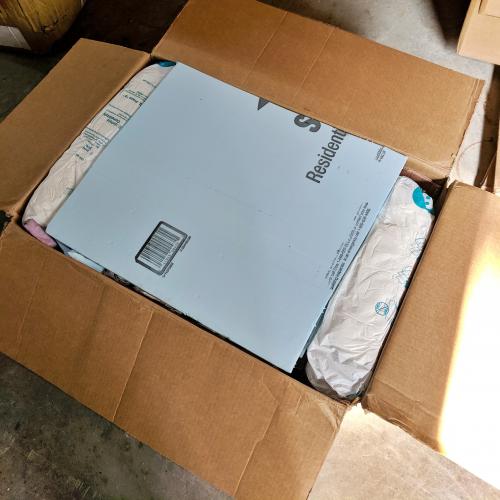 ☝
Size of the box was correct for the type of machine. The foam board and "foam-in-bag" expanding foam properly supports and protects the unit.
The packaging used is both on all sides of the machine, creating a resilent and protective packaging.
The box was shipped new and was double walled. 
This machine would not jostle inside of the box during shipping and would be well protected.
Well Done!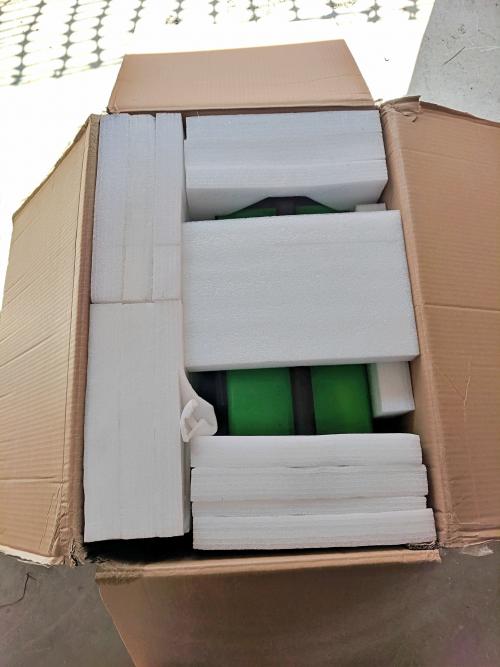 ☝
The size of the box is correct.  It does not allow the machine to exhibit any excess movement.  There isn't  a lot of excess room around the product, but allows for enough packing to protect the unit from movement and impact damage. The packaging is very sturdy.
The packaging used surrounds all sides of the machine with no extra space around the unit.  It is reselient and won't break down.  
The  type and condition of the box itself is correct.  It was not a used box and was double walled. This machine would not jostle or move around inside the box during shipment.
BADLY DONE!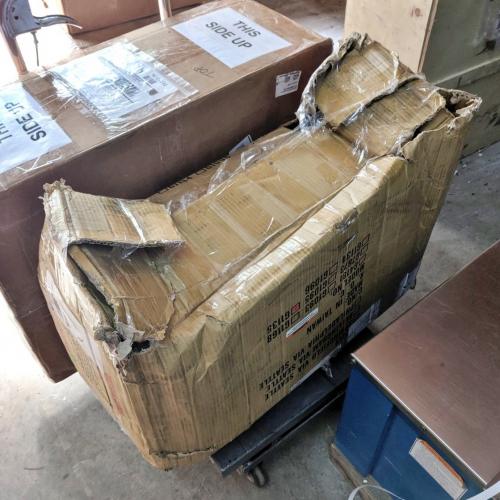 ☝
Customer shipped his machine in a used single walled, used, poor quality box.
BADLY DONE!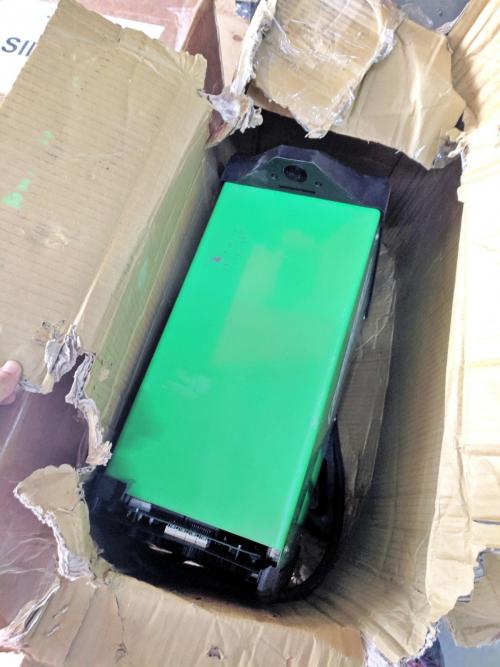 ☝
Customer did not use ANY padding or protective materials during shipment.  Customer used a used box, presumably in weakend condition. The resulting damage is severe. 
BADLY DONE!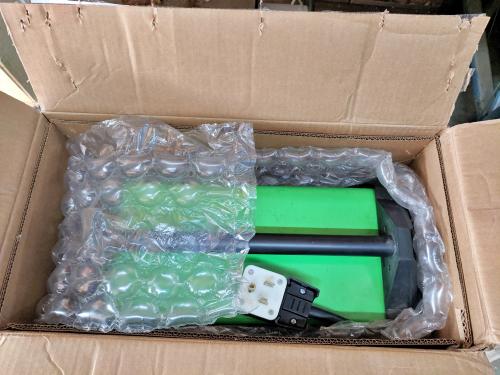 ☝
 This customer relied on bubble wrap to protect their machine. This is a very bad idea. Machines can be heavy and when they are shifted about, they pop the bubble wrap. This destroys the protective material and allows movement.  Instead use a resilient protective material: thick foam. shipping blankets. Don't try to just add more bubble wrap.
Customer just placed the plug loose in the box. Instead wrap the plug to keep it from damaging the machine. Best case, pack the plug in smaller box inside of the machine's box.
The customer did not provide a supportive protection for the handle. If the carriers drop the box on its top, the handle will be broken off. 
The size of this box does not allow room for the machine and adequate packing protection.
The one good thing about this box is that it is double boxed, a definitely DO, if you are able.  But don't sacrfice packing material in lieu of double boxing.
BADLY DONE!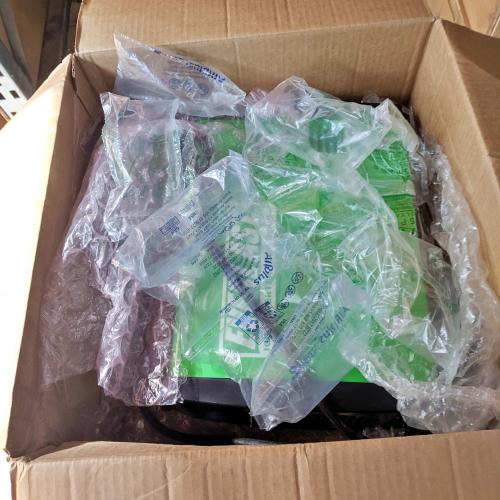 ☝
All machines, including smaller one, should be packed in a box in a way that does not allow it to move inside of the box.
Bubble wrap and air filled pillows are not protective materials for heavy objects with corners or edges.
Unit was shipped on its side.