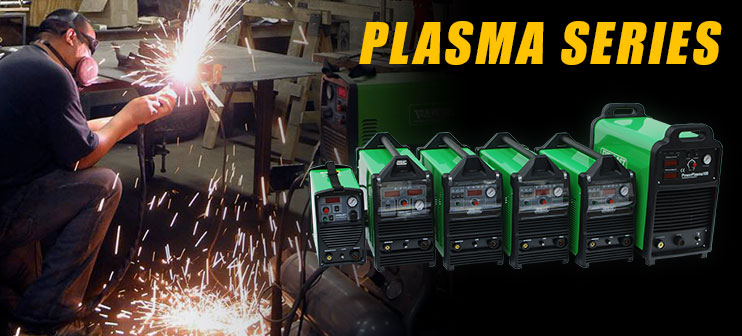 Need to cut something?
If your challenge is finding a more practical solution to Oxy/Fuel cutting or abrasive cutting of metals, at a plasma cutter price you can afford, you should consider an Everlast Plasma cutter. The line of Everlast PowerPlasma plasma cutters combine durability, performance and price into a rugged inverter plasma cutter package. We have CNC plasma cutters as well. All of our PowerPlasma units are equipped with CNC sockets and support CNC operation with the optional plasma cutter machine torch.
Not a plasma Welder!
As a metal plasma cutter, the PowerPlasma range can cut any ferrous or non ferrous metal and can be used for cutting stainless, aluminum as well as steel. Don't confuse this with a plasma welder. A plasma cutter is not designed to weld. But if you do need to weld and cut something in a single package, take a look at one of our multi-process PowerPro or PowerUltra units that can TIG weld, Stick weld, and plasma cut.
Do Everlast Plasma Cutters require a special gas?
A few people wonder if this is a gas plasma cutter (or rather one that needs a special gas to cut). This question stems from the early days of plasma when Nitrogen was used to cut with a plasma cutter. Thankfully, no, you do not need a special gas to use a PowerPlasma Everlast Plasma cutter thanks to modernized and improved technology. All you need is compressed air to cut. But you do need an air compressor with at least 5 cfm at 90 psi to run most of the PowerPlasma units for extended cuts. But if you need the compactness and portability that an inverter plasma cutter like the PowerPlasma series offers, you can still use compressed Nitrogen with a cylinder mounted regulator to control the gas flow into the plasma cutter.
Is the PowerPlasma units the best priced plasma cutters on the market?
No. However, we feel that Everlast's PowerPlasma line of professional level plasma cutters offer the best value in their repsective class when performance, price and consumable life are factored in. If you desire a cheaper, but more economical priced approach to a plasma cutter, take a look at the SuperCut series offered by Everlast. These are entry level priced, and offer a MOSFET design for light and occasional use. These offer less capability and features, but offer competent performance for the hobbyist.
Are consumables hard to find?
No doubt you are wondering about long term part sustainability. Everlast equips both the PowerPlasma and SuperCut series of plasma cutters with some of the most widely used plasma torches in the industry. This means that consumables can be found easily. Not every welding supply store will have them in stock if they sell only one brand, but the parts are no more than a few clicks of the mouse away. And of course we sell consumables for our torches too! No, we do not make our own torches. However, the PT series of torches used on the PowerPlasma line are used all over the world and offer a patented blowback design which reduces consumable wear. The SuperCut torch is no different.