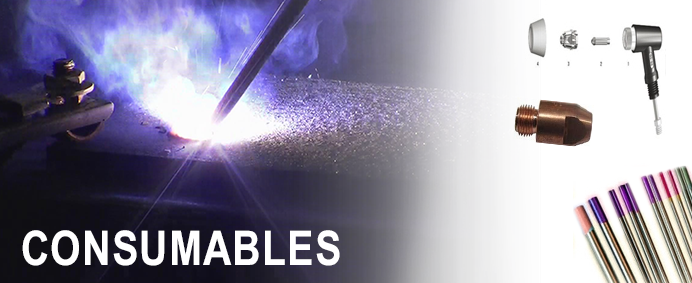 Everlast's wide range of high quality TIG welding consumables perfect for any brand of TIG torches

Everlast offers a wide range of quality TIG welding consumables to fit all brands of... more

Everlast offers a full selection of OEM quality MIG welding consumables

Take a look at our Everlast MIG consumables designed to fit Trafimet and Binzel products and all Everlast MIG guns... more

Everlast's line of OEM quality plasma cutting consumables offer a durable option you can trust

Take a look around online, and you will find plenty of plasma cutter consumables for... more
Everlast consumables for your Everlast Product, a winning combination.
Everlast offers a full line of consumables for its complete product of welders and plasma cutters. These replacement consumables are made by Everlast to meet Everlast's or the OEM manufacturer's specifications. Everlast Plasma consumables use only the highest quality raw materials, with billet copper and brass from Finland, along with Haas hafnium inserts to maximize life span and reduce wear which can caused cut degradation. In the case of the newer PT series plasma torches, Everlast offers quality OEM replacements. Everlast also offers professional quality TIG, and MIG replacement consumables and you can be sure of proper fitment and are made in the same factories that produce the Everlast MIG and TIG torches.
OEM Everlast TIG consumables.
Everlast offers premade TIG consumable kits that include Tungsten, cups, collets and collet bodies. We also offer complete gas lens kits which are an excellent choice to go with your new Everlast welder. But if you are just browsing for a complete TIG kit for any TIG torch regardless of brand, rest assured that Everlast has a kit that will fit your torch. Our consumables are packaged in multiple quantity kits to maximize economy when shipping.
OEM Everlast MIG consumables.
If you need quality OEM replacement parts and consumables for your MIG welder, you will want to check out our extensive line of MIG consumables and parts. Our parts are top quality and are assured of fitting Everlast MIG welders. Why rely on a third party to tell you what will fit your Everlast unit, when Everlast can provide a competitive, quality price on its own replacement parts?
OEM Everlast Plasma Consumables.
Everlast has a full line of quality OEM replacement consumables for all of its plasma cutters. If you do not see the consumable you need for your unit, or do not see the kit you need for your plasma cutter, let us know and we can create a custom package just for you.