Information on buying welding products
Welder Home > Welding Machines > Information on buying welding products
INFORMATION ON BUYING WELDING PRODUCTS
We at Everlast Generators have a wide range of welding and other products to choose according to your need. We have a good variety and quality of MIG (GMAW), Wire Feeders, Tig (GTAW), Spot Welders, Stick (SMAW), Submerged Arc, Multi Purpose units, Diesel Generators, Welding Helmets, Parts and Accessories and Water Coolers. The products we sell here are Input power: 1 - phase, input power: 1 and 3 - phase and input power: 3 - phase.
WELDING HELMET:
Welding being a tough and dangerous job, safety always comes first. The range of Power Vision Helmets we offer you will be best suitable to ensure your safety, comfort, size, shapes and choice of shades. These are the best safeguard from ultra violet sparks and lights and also from harmful burns which will protect your face and eyes. Avoid cornea and retina burns with these headgears and have a safe welding. And especially if you are a beginner then you definitely need one of these helmets.

DIESEL GENERATORS:
Nowadays there is shortage of power supply which stops the work of people. So to continuing the work, people buy diesel generators. There are many fuel generators but the diesel generators are used for commercial purpose. As the name indicates these work with diesel and diesel engine. These are used because these have more benefits than other fuel generators. One of the merit of this generator is there are more efficient than other fuel generators. The diesel generator usually makes lot of noise and produces lot of smoke. But now the Everlast Generators sell the eco - friendly diesel generators. These are free to noise and air pollution is used mainly as back up power.
WATER COOLERS
These Water Coolers help in keeping the system cool during the process. The welding system can become heated up in the torch handle if there is not a good supply of cool water. Regular supply of water is required to keep the torch handle at a desired temperature when welding is done continuously.

The products we have in Stick Welding are PowerARC 160 and PowerARC 200. The two kinds of Plasma Cutters we have are PowerPlasma 50 and PowerPlasma 60E. There are two types of Multi Purpose Units with us PowerUltra 205 and PowerMaster 256. And the multipurpose products we have are TIG ACDC + cut and TIG DC + cut.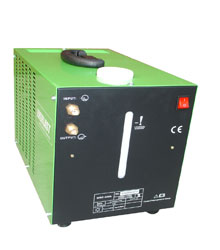 CONSUMABLES

We have a wide range of consumables like Tig Welding Tungsten Electrodes, Tig Welding Tungsten Electrodes WP18 WP26 Torch Consumables Tig Welding Tungsten Electrodes, WP18 WP26 Torch Consumables and they can cover all your needs for all types of welding. These serve your needs to the best as they are categorized into different types according to the uses.